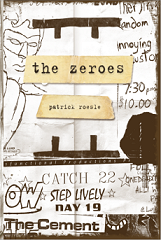 After trying and failing since 2010 to get it published through all the conventional avenues, earlier this year (2012) I went ahead and self-published my first novel.
In brief: The Zeroes is a story about dreams deferred in the Dirty Jerz (I wish I could take credit for that phrase), a portrait of the first miserable decade of the 21st century in America, and a profile of the generation unlucky enough to have come of age during the epoch of 9/11, the Iraq War, the Great Recession, and Britney Spears.
If you enjoy the stuff that I do (the comics, the blog, the dissertations on twenty-year-old video games, etc.) and want to support my work, the best way is by investing in a copy (or Kindle download) of the book.
Kindle version ($2.99)
Paperback version ($15.00)

Reader Reactions
"[T]his is something that a wider audience needs to read."
"I still feel like someone punched me in the gut and left their fist there."
"[T]he disillusioned scenester's Bible…"
"It reminded me quite a bit of The Great Gatsby…"
"[A] healthy dose of cynicism and outrage."
"[P]robably the best thing I've read in a very long time, certainly better written and more fulfilling than the door-stopper fantasy novels being recommended to me by my friends."
"Your words are powerful and they speak for our generation…"
"[Y]our book was more terrifying than any horror novel or film that I've ever ingested."
"Your book makes me want to quit my job. Well done, sir. It is Kafka's 'blow on the head' or 'axe for the frozen sea inside' me."